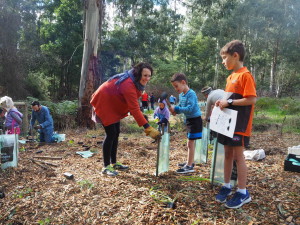 NATIONAL TREE DAY JULY 30, 2017
Community planting of the 'Grace Burn Reserve' (between 45 & 47 Farnham Rd, Healesville)
This neglected reserve has been virtually rediscovered by our Grace Burn Project facilitator, Karen Garth,who organised a re-vegetation event for the nationally recognised Tree Day.
In preparation, Karen liaised with the Bushland Crew from Yarra Ranges Council, led by Melissa Carmody, to clear weedy shrubs from the site and with Steve Mc Gill and his Melbourne Water team to remove Willows and weedy patches along the Grace Burn, in response to issues raised by local residents through our Grace Burn Project. Melbourne Water also placed some protective fencing to discourage any movement – and consequent erosion – down the steep banks behind this reserve.
Advertising of this event was via the National Tree day digital media and letter boxing of local residents as part of our Grace Burn project. The community response was amazing – families and singles came from all over, as well as local residents and HEWI members. 41 registrations, with 600 indigenous seedlings planted, bagged and staked in two hours – an essential protection from rabbits.
Grateful thanks to all participants and our special gratitude to Arthur Harford who has been digging thousands of holes for Mt Toolebewong and District Landcare and HEWI plantings over several years. His efforts have greatly increased the numbers planted each time. Council also arranged for the Green Army to bag and stake the remainder during the next week.
These plants create a microclimate and provide shade to the waterway, keeping the water temperature lower for platypus and fish. The protective bush corridor provides a habitat for reptiles and smaller animals, restoring the natural ecosystem.
Our next event will highlight the Platypus itself.