A new film reveals unseen footage of coal, corruption and community resistance of one of Australia's most controversial mining projects – Whitehaven's Maules Creek Coal Mine in the Leard State Forest.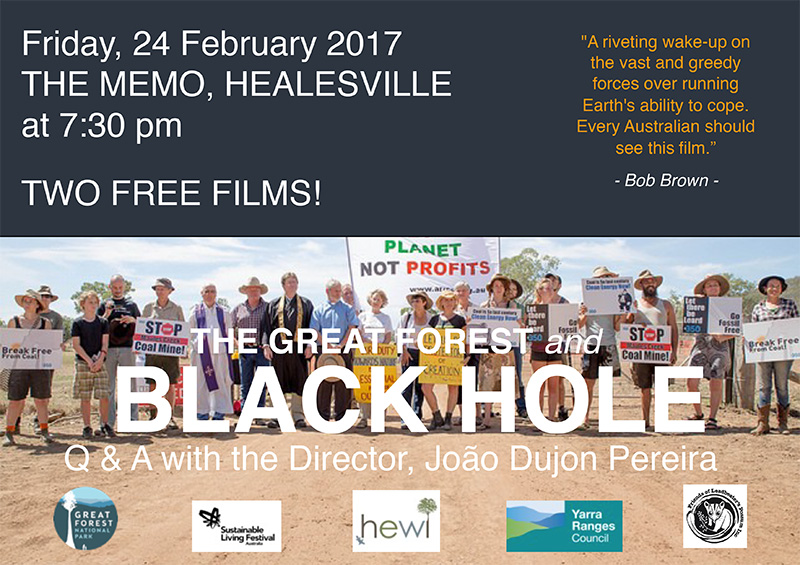 Coal, corruption and community resistance. In light of Adani and Shenhua approvals and the government's move to strip communities of the right to challenge government decisions under the EPBC. Also with subsequent issues concerning the radicalisation awareness kit the film is especially pertinent.
Set against the backdrop of the mining industry's ever-increasing thirst for fossil fuels, Black Hole is an intense and riveting exposé. Revealing unseen footage of the Maules Creek coalmine blockade, police misconduct, corporate spies and the destruction of sacred Indigenousburial sites, Black Hole brings to life the power imbalance between big corporations andcommunities.
Black Hole follows a group of passionate citizens and Traditional Owners in their longstanding fight to protect the Leard State Forest. With a protest camp running over 960 days, including in excess of 400 arrests, the story is told through many colourful and passionate characters; local farmers, Indigenous elders, scientists, community supporters, mining company personnel, police and politicians.
Black Hole aims not just to give the voiceless a voice but also asks us to examine the future of coal, corporate responsibility and the rights governments afford to people vs polluters.
"This is far more than just a campaign to stop a coal mine, this is ground zero for empowerment of citizens who have become disenchanted with a system that is portrayed as a democracy."
João Dujon Pereira – Producer/Director
"Black Hole shows the Maules Creek farming community in NSW being overrun and bludgeoned by Whitehaven Coal, and its political, legal and corporate allies. This shocking documentary culminates in the nation of Australia's indifference to an Aboriginal boy's tears as his heritage is destroyed. The film is a riveting wake-up on the vast and greedy forces overrunning Earth's ability to cope. Every Australian should see this film, not least Tony Abbott."
Bob Brown – The Bob Brown Foundation
Black Hole had its World Premiere at the Environmental Film Festival in Melbourne on Thursday 3rd September 2015, to a sold out audience including a 2 minute standing ovation. Black Hole has screened Nationally in Australia with over 50 screenings and 15 of which being to Sold Out audiences with critical acclaim.
What the audience had to say after the World Premiere; https://vimeo.com/138538188
Black Hole is a fully independent production, funded partially through crowdfunding and the remainder through substantial personal investment by the filmmaker. There was no funding from NGOs, Government or Corporations for the making of this film.