This year's waterways restoration was along Wirrup Yaluk (Blackfish Creek) where our group had first planted in 1998 at the invitation of Yarra Ranges Shire and Melbourne Water. Two years later, Susi Weber and her Year 3 students from Healesville Primary School offered to assist our volunteers, with TAFE conservation and land management students also joining the growing team of planters.   When TAFE students were no longer available, (after the closure of Lilydale TAFE), the Kilsyth staff of Cummins Filtration offered to assist HEWI, and these adults now act as buddies to the students. With the holes predug with augers, 2,000 seedlings are planted every year with fun and efficiency!
HEWI is extremely grateful to all our partners, including Council Bushland staff, who prepare and maintain our sites as well as providing all the plants, tools, stakes and protective bags.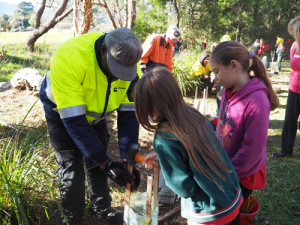 This community cooperative activity has achieved the addition of 22,000 indigenous plants protecting our three local waterways as well as enhancing our parklands. HEWI celebrated their 20years of active partnerships by inviting Nicky   Madgwick from HICSA to join our welcome on site. Nicky described the workshops and activities that take place within the Indigenous community services building next to our planting site.
Melbourne Water have provided the huge barbeque for ninety participants each year and this year (2017) the presentations were made by the Principal of Healesville Primary School in recognition of their outstanding eighteen years contribution to their local community and the survival of healthy Platypus populations.
Earlier this year, the Wurundjeri name of Wirrup Yaluk, chosen By Aunty Joy Murphy Wandin, was finally registered officially to replace the incorrect 'Don Road drain'.